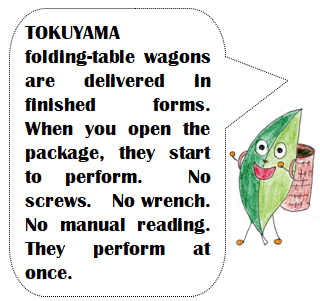 Folding-table wagons – standard




 

  The classic models are the standard folding-table wagons in stainless steel which have been used and loved over 20 years. Most users continue to use the products beyond 10 years without interruption.  Castors are subject to be worn out in around 10 years period should you be a heavy user.  Once they are replaced, the product continues to perform all right.
 General applications/ fields: as carriers, carts, portable tables, & wagons in industries which commit themselves to improving the public hygiene:  hospitals, restaurants, hotels, schools, nursing homes, & day-care center
   We recommend to use the copper-based folding wagons as a means to reduce the in-house infections in the hospitals.  Copper inherent in the material can kill bacteria like E.coli o157:H7 and MRSA.  Our copper-based wagons are proved of their self-sterilizing effect.  Here, we have two categories:  one is all table/ pipes made of copper alloy, and the other only handling pipes of copper.  
 Application fields: industries who keep the products free from microorganisms – bacteria, germs and viruses.  They are well-suited at laboratories, hospitals, nursing homes, baby delivery rooms etc.

 

Folding wagons with features

 

Electrically conductive models Parts like semi-conductors are vulnerable to static electricity.  The models use plastic joints and castors which are

electrically conductive

… [detail]

Punched table "FOP". The FOP models allow the bottom surface to contact air. Some electronic devices need stay cool, letting hot air to escape… [detail] 
Heavy duty.   There are two models groups.  One can bear

45 kg of loads

on each shelf, while the other capable of carrying

60 kg per shelf

. [detail]

Holding bar.  The trolleys are originally designed to hook intravenous dripping bottles while meeting the limited space requirement.

Quiet castor models "FGA-SE". The TOKUYAMA folding-table wagons are equipped with φ100mm double wheel castors with the outer tread nylon elastomer. The castors secure the smooth and quiet motions.  This specific models use even

quieter castors

, superior in the

noise prevention technology

. The models do for the night shift works on the hospital hallways where patients sleep behind.