"Manufacturer of Japan's best-selling folding utility carts !"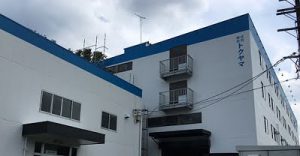 | | | | | |
| --- | --- | --- | --- | --- |
| | |   Name |    Tokuyama co.,ltd | |
| | |   Address |    556,Nakano,Shigaraki-cho , Koka City, shiga,529-1835, Japan | |
| | |   Tel/Fax |    +81-(0)6-6705-5455 / +81-(0)6-6705-5456 | |
| | |   E-mail |    eng@tokuyama-sus.co.jp | |
| | |   Website(English) |    https://eng.tokuyama-sus.co.jp/ | |
| | |   Website(Japanese) |    http://www.tokuyama-sus.co.jp/ | |
| | |   Founded |    April 26, 1990 | |
| | |   Date of Establishment |    1969 | |
| | |   President & CEO |    Tetsuhide Tokuyama, CEO | |
| | |   Capital |    10,000,000 yen | |
| | |   Principal line of business |    Furniture and Fixtures Manufacturing | |
■ Description of business:Manufacturing and sales of stainless steel medical/laboratory/kitchen apparatus and equipment, manufacturing and sales of metal furniture
■ Main customers:Hospitals, Laboratories, hotels, restaurants, factories of all kinds, schools, various facilities, nursing homes
■ Main suppliers:Stainless steel manufacturers, plastic molding manufacturers, and others
※ Due to the functionality, convenience, and amazing durability of our products, we have achieved the most sales in Japan in the area of business-use folding utility
carts (according to our research).
Our motto is "Manufacture to contribute to the world with great aspiration."
While keeping in mind traditional manufacturing know-how, we strive to take advantage of modern technology to develop and manufacture the products that can build a better world.
We also try not to forget the spirit of challenging new things and strive to build a corporate culture with an overall positive attitude.
Tokuyama's products are all-stainless steel, which has great corrosion resistance, workability, strength, and hardness.
For all the joints, specially reinforced resin is used rather than welding.
Tokuyama focuses on producing products with smooth, round edges. Every effort is made to manufacture products that are safe.
The durability of Tokuyama products is unparalleled.
Using our folding utility carts as an example, they are deployed in hospital wards, where they are used repeatedly, and often to support heavy objects. These carts are still in use with no change in their stability and durability. Customers of all kinds trust and rely on Tokuyama products' high precision, quality, and durability.
Our facility offers generous manufacturing capacity, so please feel free to contact us.
Stainless steel, steel, aluminum, and resin can be used to manufacture products, and as long as our facility is capable of meeting your needs, we can accommodate most customization requests.
| | |
| --- | --- |
|  Main Product Manufacturing Capabilities |   |
| | |
| --- | --- |
|   ■ Main Product ManufacturingCapabilities | Manufacturing of metal furniture: 1000 units per month (and other metal molds) |
|   ■ Machinery and Equipment Possessed | Cubicle substation transformer / Freight elevator / Crane / Press brake (RG80) with  automatic back gauge system / Press brake (RG50) with automatic back gauge system / Hydraulic shearing machine S-2532 / Argon welding machine / Spot welding machine / Semi-automatic welding machine / Drill press tapping machine / Air compressor / Circular saw (12″) / Equipment for metal molds・Hydraulic pipe bender / Power press machine 15t, 30t, 40t, 55t |
|   ■ Patents Possessed | 1 patent regarding furniture, 1 utility model patent regarding conveyance |
|   ■ Quality Control |  We comply with all quality assurance standards in the company manual. |
  ■ Delivery Handling
 ・ For custom orders other than our existing products, please contact our sales and production departments to determine how we may best fulfill your needs.

・For mass production and mass orders, contact us to discuss the delivery date and  other conditions before placing an order.

・All processes from designing to production and delivery are handled by us.
| | |
| --- | --- |
|  Business activity (in Japan) |   |
■ 大阪医療機器協会        http://www.osaka-iryokiki-kyokai.com/
■ 大阪商工会議所            http://www.osaka.cci.or.jp/              http://www.osaka.cci.or.jp/e/
■ 八尾市商工会議所        http://www.yaocci.or.jp/
■ 八尾ものづくりネット      https://www.yao-mono.jp/eng/index.html
■ 八尾ものづくりネット      https://www.yao-mono.jp/eng/s_pr/?pkId=89
■ 八尾中央産業クラブ     http://www.sangyouclub.com/